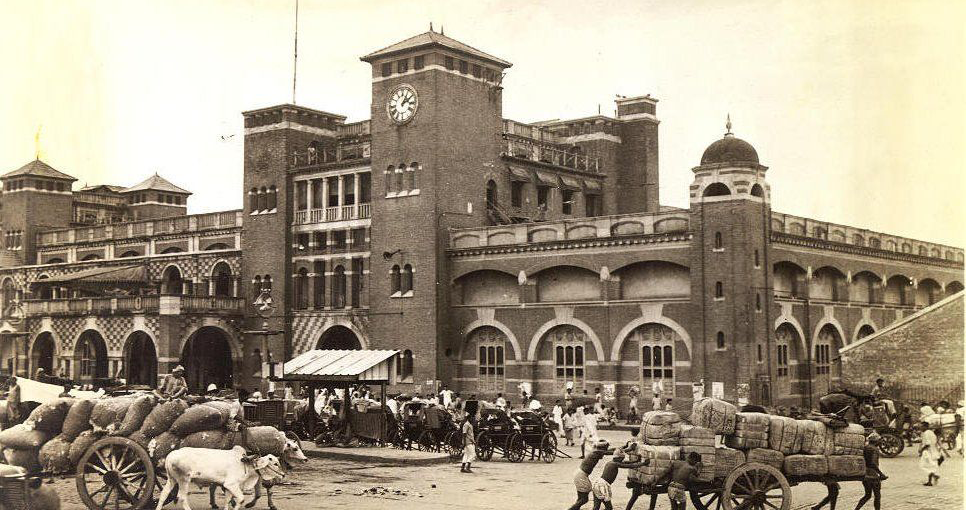 History Of Howrah
The name of Howrah District as also of its headquarter town (sometimes spelt previously as 'Haurah' and also pronounced as 'Haora') appears to have gained currency with the opening of the Railway from Howrah in 1854. Prior to that, a village named Harirah- most possibly the source of present name of the district appears to have located in or about the site now occupied by Howrah town. The greater portion of Bengal formed the powerful kingdom which contemporary Greek and Latin writers called Gangaridai, meaning the people of Ganges region. Another mention was found as 'Kalinga' (presently Orissa). It is believed that present Howrah was a part of either of these two kingdoms.
According to oldest Jain text "Acharanga sutra", present Howrah belonged in ancient times to the region of 'Ladha' or 'Radha', 'Shuma' and 'Tamralipta' and eventually became attached to Tamralipta, which is mentioned as a separate kingdom upto the time of HiuenTsaung i.e. until the close of first half of 7th century A.D. The district may have acknowledged the suzerainty of the first Gangaking of Orissa in 12th century A.D. From 13th century A.D, Muslim rulers took possession of Saptagram and extended their region upto Damodar during the middle of 16th century Bengal. Sultan Sulaiman Kararui conquered part of Howrah, grouped it into "Sarkars" and named after himself Sulaimanabad. The district appears to have been distributed between three Sarkars -Saptagram (now in Hooghly), Mandaran (now in Hooghly) and Sulaimanabad. The earliest mention we have of Howrah is prior to 1680 when an English man of war is said to have anchored near Botanical garden. Venetian explorer "Ceasare Federici" was the first European who mentioned a place called "Bator" in his journal in 1578 AD which is identifiable with the modern day place around the Howrah City.
In 1687, Job Charnok the founder of Calcutta anchored at Uluberia with a dream of setting up of a trade centre but subsequently left for Sutanooti (now Calcutta). Howrah however continued to be an attraction for English Traders. Bauria Cotton Mill established in 1817 was the oldest cotton mill of Asia. "The Bengal Council of East India Company", on the accession of the Emperor Farrukshiyar to the throne of Delhi in AD 1713, sent a deputation to him praying for a settlement of the villages 'Salica' (Salkia), 'Harirah' (Howrah), 'Cassundeah' (Kasundia), 'Ramkrishnopoor' (Ramkrishnapur), and 'Battar' (Betor) to the west of river Bhagirathi and once the settlement was made in favour of the East India Company, the places were quickly adopted as exit and entry point of sea faring business hubs and the modernization of Howrah city as we know today began.
By a treaty confirmed by an Imperial Sanad dated 11th October 1760, Mir Kasim assigned to the East India Company for military charges the district of Burdwan, Midnapore and Chittagang. Howrah was included in Burdwan.
In 1795, a greater part of Hooghly and Howrah was separated from Burdwan. A separate Magistrate was engaged for its administration. One Judge from undivided 24 Parganas was to sit in Howrah once a week for settlement of Criminal cases.
On 1st may 1822, Hooghly and Howrah Collectorate was separated completely from Burdwan and a separate Collector for Howrah was engaged though administrative control was from Hooghly.
With the gradual increase of population, Howrah was again separated from Hooghly in 1843, but till 1864 Magistrate of Howrah was under the 24 Parganas. In 1864, the district however was transferred to the jurisdiction of Hooghly which remained unchanged atleast till 1948 when Howrah was declared an independent district.
The Howrah Railway Terminus came up in 1854 and in 1862.
In 1873 the present Uluberia subdivision was constituted in the name of "Mahishrekha" which was subsequently renamed as Uluberia in1882. William Carry, the famous Baptist visited Uluberia several times during late 19th century. A huge public meeting was held at Howrah Town Hall on 29 August 1905 supporting the Swadeshi Movement. In 1930, when Gandhiji launched his Civil Disobedience Movement and salt marches in Midnapore and Hooghly, a similar movement took place in Shyampur Police Station. During this time another notable freedom fighter Netaji Subhas Chandra Bose along with other leaders visited Howrah and held a meeting at 'Gorur Hat' of Uluberia. Finally a large portion of population of this District took part in quit India movement held in 1942 which ultimately paved the way for independence of the country.
Howrah Municipality was established in 1862. In 1984, Howrah Municipality was upgraded to the status of Municipal Corporation.
891,85
km2, square
weather
1170
year of foundation
1,745,550
population