Food Safety
"Food" means any substance, whether processed, partially processed or unprocessed, which is intended for human consumption and includes primary food to the extent defined in clause, genetically modified or engineered food or food containing such ingredients, infant food, packaged drinking water, alcoholic drink, chewing gum, and any substance, including water used into the food during its manufacture, preparation or treatment but does not include any animal feed, live animals unless they are prepared or processed for placing on the market for human consumption, plants, prior to harvesting, drugs and medicinal products, cosmetics, narcotic or psychotropic substances: Provided that the Central Government may declare, by notification in the Official Gazette, any other article as food for the purposes of this Act having regards to its use, nature, substance or quality.
"Food Safety" means assurance that food is acceptable for human consumption according to its intended use.
"Food hygiene" is about making sure that food is safe for consumption. Hygiene is a science for preserving health. It is much more than cleanliness, includes all practices and precautions and procedures involves in cooking process.
Basic Introduction to Food Hygiene and Safety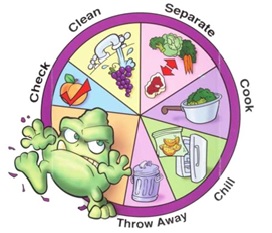 Keeping the utensil/food premises clean
Separation and segregation of raw & cooked items
Maintain time – temperature control
Make sure you use safe water & raw material
Must be aware about the labelling (allergens) and nutritional details.
Washing of fresh produce before consumption.
Avoid plastics/news paper or other non-food materials.
IEC
Distribution of leaflets among people for general awareness about food safety and hygiene.
Inspection
Inspection of the premises of food business operators and ensure compliance as per Schedule 4 (Part-I) of Food Safety and Standards (Licensing and Registration of Food Businesses), Regulations 2011 within the Howrah Municipal Corporation jurisdiction.
Complaint Investigation
Investigation of any complaint which may be made to the Health Department, HMC or Designated Officer cum Dy. CMOH (II), Howrah or higher authority, in writing in respect of any contravention of the provision of the Act or rules framed there under.
Surveillance & Sampling
Surveillance & Sampling are being done as on when required, as per direction of higher authority.
Birth & Death Certificate

Services

Burning Ghat & Burial Ground

Health Establishments/ Units